R. Hoffman/J. Webster
Biographical Information
born to fly...
Captain/Instructor Robert Hoffman is a second generation aviator and flight instructor, following the footsteps of his father and uncles. Bob learned to fly while in high school in his home town of Danville, Illinois, and completed advanced flight training at the family flight school in Broomfield, Colorado. While completing initial flight training he worked in several aviation related venues, including servicing B17's and B24's at a US Forest Service fire bomber base; working as an aircraft mechanic; operating an aircraft parts department, and finally, flying for an Aerial AG operator. By the age of 20, Bob had earned a commercial airman certificate, a multi-engine rating, flight instructor certificate, and had accumulated more than 500 hours of flight time.
Following initial flight training, he joined a large Midwestern flight school while attending college, and advanced to chief flight instructor before accepting a position flying a Beechcraft Duke for a Chicago based corporation. In the mid 1970's, he formed his own aviation company and operated several corporate aircraft, including a Beech King Air C90 and E90 in addition to a Mitsubishi MU-2.
His airline career began in 1979 as a line pilot and instructor for a large regional airline where he soon advanced to flying turbojet aircraft before joining the major airlines in 1985. Bob is currently a senior captain for a major international airline and a member of the Airline Pilots Association. In the public venue, he serves on several public committees associated with the planning, construction, and operation of a major international airport.
Of his more than 40,000 flight hours, more than 6,000 are as a flight instructor. Eleven hundred flight hours are as pilot in command in the Beechcraft model 60 Duke. He was selected by the FAA and his peers as the "Flight Instructor of the Year" in 1973, and authored the first high altitude flight training programs for the regional airline industry in 1981. His company, L. L. Hoffman Aviation Services, Inc., are specialists in Beechcraft Duke initial and recurrent training, and produce technical training manuals and specialized training products for the flight training industry.
Bob is a USMS open sea masters swimmer, having successfully "escaped" from Alcatraz island six times without a wet suit, and has similarly crossed the straits of the Golden Gate without a shark bite. Bob is married and lives in Bluegrass Region of north central Kentucky with his wife, Diane, and two of their five sons, Nick and Gus. When he is not flying the line, doing committee work, conducting Beechcraft Duke flight training, or attempting another aquatic challenge, Bob can be found on his Gallatin County, Kentucky, farm "bushhoggin" on his Ford tractor.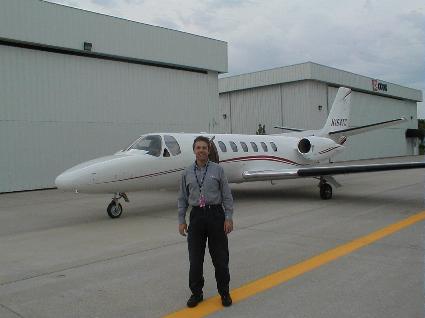 Webster & Citation V
a passion for flight....

Captain/Instructor Jack Webster is a second generation aviator with over 40 years and 10,000 hours flight experience. Jack's father was intrigued by the opportunities for commercial and personal enrichment that only aviation offers. After his tour of duty with the 961st Field Artillery Battalion in the liberation of Europe in WWII, Jack's father obtained his pilot license through the GI Bill. Jack first began flying with his father at age 10 (about 1966) from the right seat of his father's Bonanza. Jack gained much early experience flying from the right seat in Beech Bonanzas and Barons. The basics of the airspace system, communications, navigation, meteorology, and multi-engine operations, were an integral component of his education while still in elementary school. One noteworthy accomplishment was Jack's acquisition of student pilot certificate (first solo), driver's license, and motorcycle license, on his 16th birthday! Jack and his father (now retired from flying) are weather-wise pilots and have always operated carefully and successfully.

In 1973, their first Duke was acquired and at age 17, Jack checked out in the left seat with Beech's check pilot Mr. Dave Younts. In 1977 they traded for their current aircraft, Duke N766JW. The Duke's operation, maintenance, flight planning and execution were Jack's responsibility since going to work full-time for their family business in 1978.
At the suggestion of Capt. Robert Hoffman, Line Captain for Northwest Airlines, Jack established commercial operations. In August 2000, Jack founded Air Ozark, LLC, a single pilot FAR § 135 on demand air carrier operation, with Duke N766JW as the flagship of the new company. Duke N766JW has made a very favorable impression on business travelers in southwest Missouri, and the schedule is kept quite full. N766JW has found its niche and is a great fit for much of their clients' business travel needs.

After the first year of commercial operations, Jack was hired by a regional beverage bottling operation to co-captain a Citation V, FAR § 91 corporate flight department. Currently serving as their Chief Pilot, Jack operates about 400 hours per year in the Citation V.

With the completion of ATP certification, Citation type-rating, multi-engine and instrument instructor certifications, Jack has been able to fulfill career goals of positioning his work activities to include the training of new Duke and Mitsubishi pilots. Jack possesses a first hand working knowledge of every Duke system and has operated Dukes successfully and continuously for over 35 years. With guidance from Captain Hoffman, Jack has become an authorized Duke instructor and is well suited to the task of conducting Hoffman Aviation Service's comprehensive Duke training programs.
Jack holds a 3rd Degree Black Belt in Tae Kwon Do, and has taught several martial styles including Tai Chi. Jack also enjoys chess, billiards, literature, art, travel for pleasure and adventure, as well as spending time with his family in their country home in southwest Missouri. Jack shares Bob's affection for room to move and gets to enjoy the finer points of the Ford tractor/brush hog combo as well.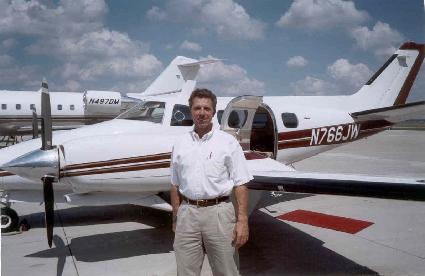 N766JW
Now Available!!
Mitsubishi MU-2 Operations, Training and Checking
SFAR Approved Initial and Recurrent Instruction
In 2004 Jack created a new comapny to own and operate a short body MU-2 to be based in Springfield, Mo. The company acquired a 1978 MU-2B-26A. This aircraft is one of the late production models from the legendary Mitsubishi aircraft lineage. This very low time MU2 "P" model is a swift, efficient and rugged aircraft. It has added a welcome dimension to the travel options upon which Jack's clients and colleagues may rely. 2008 has seen Jack added to the roster of approved MU2 instructor and check airmen, under the stringent new SFAR for MU2 pilot training and checking.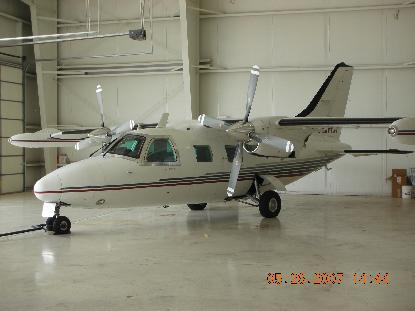 MU-2B-26A